#44. The Federal Reserve provides financial services to depository institutions, the U.S. government, and foreign central banks.


Strange Scholarships
Not all scholarships are academic based; here's some strange ones.
Scholarships can be competitive. You often need good grades, a solid spread of extracurriculars, and even sports to get some of the best ones out there.
There is another way though: find the weird ones. From creating greeting cards to duck calling, there are thousands of weird and strange scholarships to be had. Here's a list of some of the strangest ones we could find, how to apply, and where to find more. College isn't all about getting good grades; you should have a lot of fun too, so why not start with scholarships?
Greeting cards.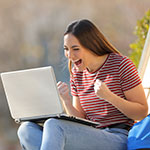 The Prudent Publishing Company offers $10,000 and an additional $1,000 to the winner's school for the best greeting card. The contest is open to any high school, college, or university student currently enrolled at the time of the contest. And the theme of the card is up to you.
Do you believe in Magic?
Magic: The Gathering, that is. Some of the world's best Magic: The Gathering players in the world have started a scholarship to help out younger players in their scholastic endeavors. The application requires a statement of how MtG has impacted you, your favorite and least favorite cards, and what lessons the game can teach about real-world problems. If you don't play regularly, this probably isn't for you. Serious gamers only. The scholarship is offered through Gamers Helping Gamers, if you're interested.
Hate writing?
Applying for school and scholarships tends to mean one thing: writing essays. All. The. Essays! But not if you apply for a no-essay scholarship! There are a bunch of them out there, and the standards for applying are different for each one. But it is totally worth the look, even if just for the laugh of some of what they ask for in the application.
Memes.
Yes, there is a scholarship for the best meme. The Breanden Beneschott Fire Student Memes Scholarship offers $1,000 to the best meme. You don't have to make your own template, but you're going to have to bring the fire. It's right in the name.
Caddie shack?
The Evens Scholarship is for former or current golf caddies. The winners live in the Evans Scholarship House at participating universities. The scope is limited. You have to have experience as a caddie and plan on attending a school that hosts an Evens House. But if you get the scholarship, you'll enjoy free room and board. And probably a few rounds of golf.
Foreclose on student debt!
Interested in real estate and the benefits of renting vs. owning a home? Want to educate your community about fiscal responsibility? Foreclosure.com offers scholarship winners between $500 to $2,500 for an 800- to 2,000-word essay. Even if you don't love the idea, you can still take a stab at the essay; talking to the mortgage broker at your credit union would be a great start.
Live long and prosper?
Do you dream of joining Starfleet? Well, you can at least get a scholarship based on your dreams and collection of Star Trek memorabilia. You'll have to have been a member of your local STARFLEET chapter for at least a year before you apply, but you're eligible for up to $1,000 for your fanhood. Just don't wear the red suit…it never ends well.
Well, duck.
The first National Duck Calling Contest took place in 1936. Funded by the sale of duck calls, cookouts, and donations, the Chick and Sophie Major Memorial Duck Calling Contest awards a $500 scholarship to the winner.
This is just the tip of the iceberg when it comes to weird and quirky scholarships. There are thousands of them out there. And thanks to the internet, they're a lot easier to find than they were when our writers were in school. So good luck writing those essays, or not… Just remember, school is important and you should take it seriously—but not all the time; have some fun.